LIKE A CORSET UNDONE is finally out! And on SALE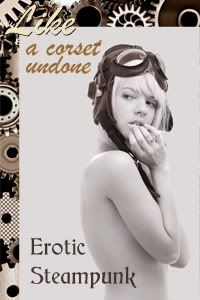 Order here:
http://www.circlet.com/?page_id=12&category=4&product_id=91
For the next two weeks the title is on sale at up to 20% off from most partner sites, and right here at Circlet.com, so don't dawdle, download a copy today!
All the trappings of steampunk society–corsets, airships, and 'leaping technologie'–meet the simmering undertone of sexuality so well-hidden by Victorian morality in LIKE A CORSET UNDONE, Circlet Press's third volume of erotic steampunk stories. By turns kinky and romantic, the stories in
Like a Corset Undone
explores all the reasons to unlace, whether to rebel, or for more intimate purposes.
Includes the stories:
The Pretty Horsebreaker by Peter Tupper
Adventures Underground by Carlanime Bligh
The Skydancer by R.E. Bond
Skyway Robbery by Angelia Sparrow and Naomi Brooks
The Tinker's Lady by Jasmine Dale
The Zeppelin Raider by Roxy Katt
Submission by R. Blackett
The Coming Age by Angela Caperton