Yuletide Youtube:
Pic of the Day: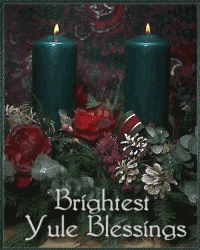 Recipe of the day.
Nothing says Holiday like Wilton Vanilla Sugar cookies with buttercream icing. Break out the old cookie cutters!
1 cup Butter; room temperature
1 cup Sugar
1 teaspoon Vanilla
1 Egg
3 cups Flour
2 teaspoon Baking Powder
Preheat oven to 400. In a large mixer bowl, cream butter and sugar until well combined. Beat in vanilla and egg. Sift flour and baking soda together. Add to creamed mixture, one cup at a time, mixing after each addition. Dough will be very stiff. DO NOT CHILL DOUGH!
Divide dough in half. On floured surface, roll dough about to 1/8 thick. Dip cutters in flour before each use. Bake cookies on ungreased cookie sheet on top rack of oven for 6-7 minutes, or until lightly browned.
Makes 2-3 dozen cookies.
Wilton Buttercream
½ cup solid vegetable shortening
½ cup butter or margarine
1 teaspoon Vanilla
4 cups sifted confectioners' sugar (approx. 1 lb.)
2 tablespoons milk
Cream butter and shortening with electric mixer. Add vanilla. Gradually add sugar, one cup at a time, beating well on medium speed. Scrape sides and bottom of bowl often. When all sugar has been mixed in, icing will appear dry. Add milk and beat at medium speed until light and fluffy. Keep icing covered with a damp cloth until ready to use. For best results, keep icing bowl in refrigerator when not in use. Refrigerated in an airtight container, this icing can be stored 2 weeks. Rewhip before using.
YIELD: 3 cups
Today's Free Book:
Croc and the Fox. It's a het furry romance
http://www.allromanceebooks.com/product-crocandthefox-906632-140.html